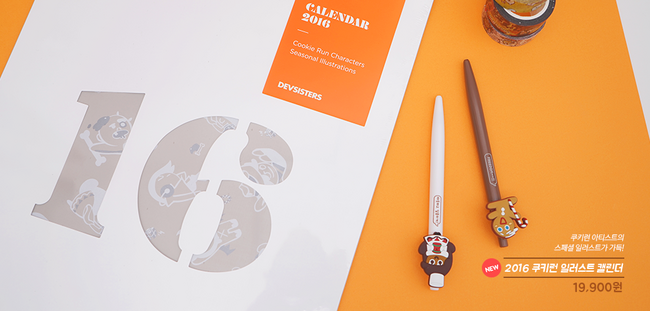 Details Image
Merchandise Name
2016 Cookie Run Illustrated Calendar
2016 쿠키런 일러스트 캘린더
Category
Life Style
Price
19,900 won
US$16.50
CA$22.50
AU$23.10
£13.50
€15.85
¥1943
฿596
IDR 222,743
Release Date
24 December 2015
Product Features

New Year is always exciting with pleasant plans! Get ready with a special Cookie Run illustrated calendar.

The opportunity for the Cookie Run game artists to participate in the show all year round with 12 illustrations add more value!

Special limited-edition 2016 Cookie Run illustrated calendar which looks attractive even if it is framed by a sheet. Do not miss a special calendar that you may not find anywhere else.

Product Details

Size: 28.5mm by 43.5mm (wall mount type)
Material: paper, steel etc.
Made in Korea

Handling Precautions

Be careful not to get hurt by the paper!

Please use caution not to touch the container(?).

Additional Information

The scanned illustrations from the calendar can be found through this link.
Ad blocker interference detected!
Wikia is a free-to-use site that makes money from advertising. We have a modified experience for viewers using ad blockers

Wikia is not accessible if you've made further modifications. Remove the custom ad blocker rule(s) and the page will load as expected.