Collect ingredients to bake Herb Cookie! was an event in which players have to collect specific ingredients to make their own Herb Cookie. Ingredients float in non-magnetic bubbles throughout stages and are numbered. Players need to obtain all ingredients with the specific numbers in order to make the cookie. Some bubbles may not contain ingredients. Finishing the mission rewards the players with Herb Cookie, a Rainbow Fortune Dough, and

30.
Players are required to collect all the ingredients. The numbers represent the amount of ingredients collected.
Some bubbles also contain unrelated ingredients such as ribbons. Collecting them will not progress through the mission nor giving any advantage to players.
Special Episode 1, 2 are excluded from this event
If you already own Herb Cookie, 108,000 will be rewarded instead
Ingredients Needed
Edit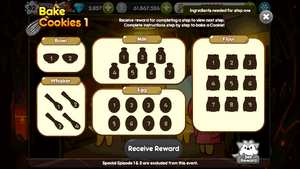 Step One

Step One Completed
Rewards
1

10
10,000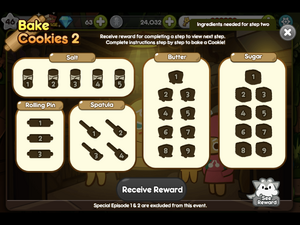 Step Two

Step Two Completed

Rewards
1

20

5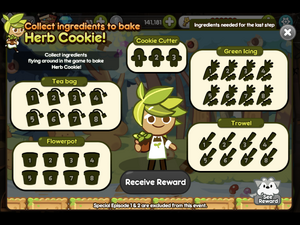 Last Step

Step Three Completed

Rewards

1

30

Recipe for the Perfect Herb Cookie
Edit
So you want to bake a Cookie, but you don't know how? No problem; we'll cook you up your very own Herb Cookie! Pretend to be the Witch as you go through these very easy steps—I guarantee that—and unfortunately eat it afterwards.
Serves 3
Ingredients
Edit
Cheeseberry and Blackberry Cookie's Paranormal Activity power can help pick up the bubbles for you, making it easier for you to gather the ingredients.
This is one of those events when flying jellies are not obtainable with Magnetic Aura.
Similar Events
Edit
Ad blocker interference detected!
Wikia is a free-to-use site that makes money from advertising. We have a modified experience for viewers using ad blockers

Wikia is not accessible if you've made further modifications. Remove the custom ad blocker rule(s) and the page will load as expected.