Please help us construct the Ice Bridge!

Contents in this article is still under construction, work-in-progress, or partly completed. Please help Cookie Run Wiki by completing the information.
Welcome! Cookie Run Wiki is a collaborative wiki dedicated to Cookie Run, a game developed by Devsisters and presented by LINE. You'll find information on cookies, pets, treasures, episodes, and more! The wiki is dedicated to collecting all information related to the game.
About Cookie Run...
Edit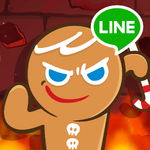 What is Cookie Run?
Cookie Run is a side-scrolling running game by Devsisters for iOS and Android. It may look like a piece of cake, but this is one tough cookie to crack. Help the cute cookies escape a fate worse than bad bakery! Released in January 23, 2014, players guide cookies to run and score as much as they can. More...