For the other Halloween Parties, see Halloween Party.
Halloween Party 2014 is an event specially made for celebrating 2014 season of Halloween. All these changes are available from 24 October 2014 to 4 November 2014, 5 pm (GMT+9).
List of Changes in Halloween Party
Edit
Theme Song changed
Edit
Theme song in the front page (outside the game) has been changed into spooky Halloween theme.
Bear Jellies changes into Pumpkin Jellies
Edit
Yellow Bear Jellies and Pink Bear Jellies both have been replaced with Yellow Pumpkin and Orange Pumpkin Jellies, respectively. Even the Giant Bear Jellies has been changed into Giant Pumpkin Jellies as well. However, there are no point changes to all the jellies - those changes are visual only.
Collect Halloween Candy event
Edit
Main article: Halloween Candy Event
Players are requested to collect Halloween Candy for exclusive prizes, Luck-o'-Lantern.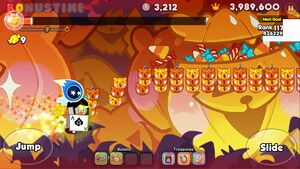 Rainbow Rush pumpkin background
Edit
Rainbow Rush Bonus Time background was changed into Jack-o'-Lantern filled with lots of Halloween candies. No changes in the layout of other Bonus Time.
Cookie Costumes
Edit
Every cookies available in the game, except Ninetales Cookie and Pistachio Cookie are wearing Halloween costumes. Meanwhile, these costumes will not affect the cookie's abilities or any power.
The references the costumes are making is highlighted in bold face. If you would like to learn more about the original character used for the Cookie's costume, click on some of the hyperlinks provided.