Level Up is an event in Cookie Run, where a special reward will be given for reaching certain level.
Players are simply need to play and collect XP until they have reached certain level specified within the event period.
If all players have reached the level before the event, all rewards for reaching new level will be rewarded after playing once.
Rewards can be only earned once.
List of Appearance and Rewards
Edit
14 February - 2 March 2014
Edit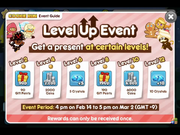 | Level | Reward |
| --- | --- |
| 2 | 90 |
| 4 | 2,000 |
| 6 | 5 |
| 8 | 190 |
| 10 | 6,000 |
| 12 | 10 |
12 June - 25 June 2014
Edit
| Level | Reward |
| --- | --- |
| 22 | 220 |
| 25 | 5,000 |
| 27 | 270 |
| 30 | 5 |
| 35 | 6,000 |
19 December 2014 - 1 January 2015
Edit
| Level | Reward |
| --- | --- |
| 10 | 3 |
| 13 | 10,000 |
| 16 | 5 |
| 19 | 5 |
| 21 | 20,000 |
| 24 | 10 |
See also
Edit