I sense that the information here is old...

This article is outdated. The article has yet to be edited for a long time and as the game goes by, the information listed here are starting to get old. Please help Cookie Run Wiki by updating this page.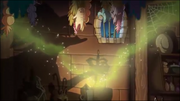 The Witch is the main antagonist of the game. She is most known for baking or capturing Cookies for the sake of consuming them, and the player must escape her lair to prevent themselves from being eaten. Sometimes her name appears in the Cookies' start up messages. Besides that, her physical form is mysterious.
Little information is given about her in the game. Her only appearance is being a silhouette in the introduction video. She once used to work in a royal family. It is unknown why she ended up as a witch. She has a cabin in the middle of the forest, and she has a kitchen, where she used to bake cookies in the oven.
References to the Witch
Edit
Treasures and Ingredients
Edit