---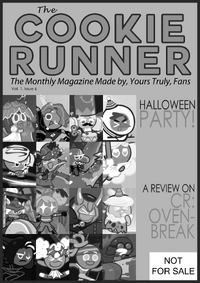 Published 25 November 2016
Welcome to Cookie Run Wiki's monthly newsletter, The CookieRunner! The CookieRunner is dedicated to giving out important updates on the game, as well as tips for the game, both in LINE and in Kakao. Yes, this newsletter will talk about Kakao stuff as well. But Kakao stuff will be limited to this newsletter, and nothing will be spread to the articles unless it's very important.
This newsletter will also be selecting fan art that we think is amazing and worthy enough to be featured here. Do you have any amazing fan art that we would like to see? Please comment down below! We would love to hear your suggestions.
Condolences to the King
The Cookie Run Wiki would like to express our deep sadness to H.M. King Bhumibol Adulyadej of Thailand, who had peacefully passed away on October 13, 2016. We would like to offer our heartfelt condolences to all our Thai fans and to all our Thai contributors. May H.M. King's soul rest in peace.
Hence, we are going to make all of the backgrounds used in this newsletter grayscale.
Editor's Note

By T And J Kids
Poem of the Month
Cookie Run: Ovenbreak.
Test your skills and
Explore new and amazing lands!
It's Halloween time. Obviously. Some people will celebrate Halloween only on the last weeks of October. Other people will start celebrating Halloween even since September! Based on that info, Halloween will never get any older. Thank goodness my exams have finished to celebrate the Halloween Party! Coincidentally, the new episode has arrived too! So that means it's double the excitement!
This month, I have been concerned about the functions that this newsletter is undergoing. Ever since I started this monthly newsletter, I had decided to myself that this is for the other fans who do not know much about the game. Sure, there are update accounts on social media, but I wanted to make the Cookie Run Wiki more accessible to the other players. Using the wiki's social media accounts to promote the wiki, I can feature not just updates about Cookie Run, but updates in the wiki as well.
In other words, I did not want to make any money out of this newsletter. This was purely made for fun and for the passion I sought to devote my time to helping the wiki grow. And this has been true every since, because there are no financial records saying that I made money out of this newsletter. Heck, even Wikia is free of charge, with the only profit from the advertisements that you see around this article.
So, if TL;DR, The CookieRunner is a non-commercial newsletter, and it is not intended to make a profit. Even the Cookie Run Wiki is not made for profit.
---
I have also applied a new rule: ask artists for their permission before featuring them. It is not like in DeviantArt, in which there is a mentions feature that makes notifying a lot easier, which I have tended to apply here most of the time. Therefore, from this issue onward, the Twitter artists that gave their permission will be featured here as a gallery of pictures; inactive artists or artists in which direct messaging is not available will be featured in the "Unlisted" section as links. Artists who do not allow featuring their artwork will not be featured. Tumblr artists will be notified first (since Tumblr implemented an direct messaging service, which is a lot easier to undergo), and if they agree, they will be featured. If not, they will not be featured.
---
Anyway, besides Halloween, Dessert Paradise, and Ovenbreak, we have sad news for you. The social media sites for the original Cookie Run have been discontinued. This means that the pictures you loved to see in those sites are gone. However, there is a way to see them again. See the article about it below.
And with deep regret I say this... this newsletter will be taking a hiatus of around one month. This is to help me focus more on my studies, as I think they are getting worse by the minute. This means if a new Cookie came in December, I will not write about it, but I may do so in a separate blog post. The estimated return of this newsletter will be in the first weeks of January, unless LCR/KCR has closed down. If so, all CookieRunner issues will take place in the Cookie Run: Ovenbreak Wiki.
But happy running! Don't let these sad news get to you!

•

•

The Halloween Corner: FOR REAL
By T And J Kids.
The moment we have all been waiting for is finally here. Many of us have been secretly predicting what the newer Cookies will wear for the Halloween Party this year, and now the truth has been revealed. Heck, I event had an entire playlist saved just so I can listen to it on the Halloween Party while I play the game. It's not full of Halloween songs though.
Released on 14 October, the same day that Dessert Paradise was released in the LINE version, the Halloween Party came along with an event that allowed players to collect a certain number of Halloween candies, with the amount different for each Cookie. Luck-o'-Lantern was available for purchase again. Despite some people worrying that the Halloween Party will not come to LINE, it came to it two weeks later. Please note that the disappearance of the Notices is neither a bug nor a glitch; it is to pay respect to the late King of Thailand. As of November 1, notices have appeared again.
Previously, we have covered the Halloween Party in the June issue of The CookieRunner. There was not much to to talk about, aside from giving an introduction to the Halloween Party and the top 10 Cookies' Halloween costumes of the year. Besides, speaking of top 10, I have created another top 10 list for the 2016 Halloween costumes.

Top 10 Halloween Costumes of 2016
All reasons are opinion-based. If you have a different opinion, you can state it in the comments below.

10. Red Bean Cookie (Snowman) We are still unsure why this Cookie got no votes at all in the top 10 list, because we believe this Cookie's costume is too cute to include him here in this list. What's the connection? Red Bean Cookie is all about snow. Why not put a snowman on top of him?




9. White Choco Cookie (Lady Oscar) We don't know much about Japanese manga, but we do know that The Rose of Versailles are one of the most famous. Her confident stature must have landed her on #9. What's the connection? Probably her connection with LGBT rights, since many fans consider her to be a lesbian. The character from the manga is also LGBT-related.




8. Roll Cake Cookie (Thor) How he came to have landed on #8 and not alongside his brother remains a mystery. How his personality does not fit with a superhero also remains a mystery. What's the connection? It's obvious; he wields a very large hammer that might be heavy as well.



7. Cinnamon Cookie (Priest) Out of all the new Halloween costumes this year, this costume was one of my favorites. But anyway, it has a Halloween costume that captures the hearts of many fans, but not that much to be #1. Instead, it landed itself at #7. What's the connection?

Before answering this question, let me remind you that South Korea is also mainly a Christian country.

That said, 28% of the country practices that religion, with 18.3% Protestants and 10.9% Roman Catholics.[1] But anyway, back to my point. These religions condemn dark magic, and since Cinnamon was a magician, so be it.

6. Banana Cookie (Ghostbuster) Would you imagine a monkey to become a ghost? Under a costume, yes, but put it together with a circus-trained Cookie and you have them at #6. What's the connection? This is a hard one I guess. Let me guess... the hula hoops?




5. Macaron Cookie (The Nutcracker) And yet Macaron Cookie steals many fan's hearts over this costume, despite having a mustache painted over her face. What is it about her charming smile that makes her to #5? What's the connection? Do nutcrackers play drums? Well, no. But her hat must have made her become one!




4. Pancake Cookie (Loki) Out of all the new Halloween costumes this year, this wins Best Costume of the Year in terms of linking Cookies together, as this Halloween costume clearly defines that Pancake Cookie has some connection with Roll Cake Cookie. Still, his Halloween is so cute it decides to place itself on #4. What's the connection? According to the Marvel comics, Loki is Thor's brother, and Devsisters decides that Pancake Cookie is Roll Cake Cookie's brother.




3. Cotton Candy Cookie (Cupid) Cotton Candy Cookie is already as charming as she could be, and this Halloween costume just makes her even more charming. What's the connection? Cotton Candy Cookie's all about love. Why not send her out to shoot love arrows over Cookies?




2. Onion Cookie (Corpse Bride) I have heard of Tim Burton and his amazing movies before, and this was one of them. He's all into creepy stuff, but Devsisters decided to lighten the load with Onion Cookie, and thus made her creepy but still childlike, enough to give her a place at #2. What's the connection? Onion Cookie sees ghosts... dead people... and thus she sees... corpses?!



1. Herb Cookie (Dionysus) OK, Herb Cookie actually wins Best Costume of the Year. He already has a charming smile... charming hairstyle...charming Halloween costume... OK I'll stop. What's the connection? Dionysus is the Greek God of grape harvest and wine. And Herb Cookie loves plants and harvesting. And he's there to wash the golden touch of Buttercream Choco Cookie away


As to why Moon Rabbit Cookie's and Dino-Sour Cookie's Halloween costume did not make it to the rankings... Moon Rabbit Cookie may not be known by LCR players. I forgive it for that. And as for Dino-Sour Cookie... your simple Halloween costume is too simple to be in this rankings. Sorry for that.

An In-Depth Look into CR: Ovenbreak
By T And J Kids. The Cookie Run: Ovenbreak also has a wiki.
On 27 October 2016, Cookie Run: Ovenbreak opened its doors to the global audience. Many people had anticipated this event, with over 700,000 people pre-registering for 500 free Crystals. It did not manage to reach 1 million, but the Crystal reward was good enough, because 1,000 free Crystals was given as well just for updating.
However, the game was met with some criticism as well. Most people felt the game was relying too much on the pay-to-win strategy, with some even making harsh disapproval about it. Some people have even quit the game because of this issue.
This month, the CookieRunner would like to go over the features and mechanics of the game and how the game lead to an update that stunned many players from around the world.
All references to " Ovenbreak" refer to "Cookie Run: Ovenbreak." Please do not confuse it with the earliest game.

What Is Cookie Run: Ovenbreak?
According to Devsisters (more specifically, the Facebook page), it is a "NEW version of Cookie Run with new Cookies, Pets and Treasures!" That is partially true. Although there are new Cookies, Popcorn Cookie and Dark Choco Cookie to name a few, and Pets, most of the Cookies and Pets are returning Cookies from the LINE/Kakao Cookie Run. So far, the newest Cookies that have been released in Ovenbreak are Cheesecake Cookie and Mint Choco Cookie, so there might be hope that older Cookies will be returning in this new game.
So, how can a Cookie run? We have come a long way through this, but here is a quote from the Devsisters Customer Support regarding this question:
Well, Cookies can run in many ways. Some of them can even fly.
Now I'm starting to think second thoughts...wait a minute.
---
Ok, I'm done. And I digress. To advance your way to success in Ovenbreak, you have to unlock Cookies from chests and compete in trophy races to gather chests. Once you get a chest, you will get some Cookies, with the amount and type of Cookies determined at random, as well as Coins and Crystals. These currencies will help you upgrade Cookies, and therefore increase your Escape Level. Increasing your Escape Level will help you level up and unlock more Cookies as well as increasing the jelly points and giving a Coin reward.
However, is it possible to earn those Coins and Crystals so easily like in LINE/Kakao Cookie Run? Due to the lack of Crystal-generating Treasures in Ovenbreak, getting Crystals is not that easy. Of course, there's the option to watch ads to get Crystals, but you might only watch an ad one or two times a day. There's also from chests, but they take a long time to open if you are in a higher land. However, the amount of Crystals rewarded is usually more generous than LINE/Kakao Cookie Run, in which for every maintenance you get a hefty amount of Crystals. Keep that in mind as you play the game.
Now onto Coins. The amount of Coins required to upgrade a particular Cookie can seem a lot to you, but once you get the hang of the game, you can upgrade a lot of Cookies and still have a lot of Coins left after upgrading every Cookie possible for upgrading. The amount of Coins given are usually generous if you are not a serious player. For example, you can get a coin reward of
~160,000 (Level 18) for leveling up, and you can get around
70,000-90,000 from a Frozen Diamond Chest. However, getting a Frozen Diamond Chest for free is a rare occasion, and it is usually a feat. There's also Cheesecake Cookie and Mint Choco Cookie, but you need Crystals.

Advantages over LINE/Kakao Cookie Run
Not much I guess. Many people see the downside of Cookie Run: Ovenbreak, with the most famous being the chest timers. However, there are many advantages in playing this game.
More Balanced Gameplay Everyone is equal. Not quite. That's why there's the levels of Common, Rare, and Epic. The Common Cookies are usually disregarded for the Epic Cookies, as they score way better than the Common Cookies. Rare Cookies are usually there as a relay Cookie. Some are way beyond my expectations.

And yet, they are balanced in such a way that no one is using the same combi over and over again; it's not like in LINE/Kakao Cookie Run in which everyone is using Macaron Cookie and Pancake Cookie. Some people use Hero Cookie + Pirate/Zombie Cookie. Some people use Yoga Cookie + Pilot Cookie. It's their playing style that gives the game more variety.
Less Running Time Want a quick break between your heavy workload? Cookie Run: Ovenbreak is the way to go. Compared to LINE/Kakao Cookie Run, most runs take around 4-5 minutes, and can be ignored soon after, as long as it's a perfect run and you don't have to worry about anything else.
More Competitive Gameplay This can be an advantage or a disadvantage based on your playing style. If you are a risk-taker and would love to challenge other people to their very best, this can be considered an advantage. However, if you are a lax, calm person (like Vampire Cookie), this can be considered a disadvantage. Then again, it's based on your playing style.
More Generosity of Crystals Compared to LINE/Kakao Cookie Run, the amount of Crystals given is not just generous, but also frequently implemented. While LINE/Kakao Cookie Run requires Crystal engines to reach that amount of generosity, Ovenbreak has watching ads for Crystals, Mini Crystal Jars, and the roulette (despite being flawed).
A Way out of Addiction I'm not exactly sure about this point, since it depends on a person's point of view. But what is the chest timer there for? And the number of runs before a Cookie can become tired? Basically, it's there to cool us down and focus on the aspects of real life. Oh, and also some time for us to play LINE/Kakao Cookie Run.

Disadvantages over LINE/Kakao Cookie Run
Yet, every advantage has their own disadvantage. Some might have been known very well, but some are hidden inside the dust.
Pay-to-Win? This is one of the most controversial aspects of Ovenbreak. Because of the luck-based trophy races and the RNG-based roulette, you might be pressured by in-app purchases to level up faster. If you have been tempted... congratulations! You just contributed to Devsisters' financial needs.
Luck-Reliant Stages Have you ever scored a really good high score due to an extra potion in the game? Well, then you have witnessed a game play based on luck. Some jelly patterns include an extra potion at the back of them, thus making players who get these one or two times in a run extra lucky. And don't forget the Bonus Time as well. Whichever path you go may be the luckiest path you come across.
Lack of Cookies and Pets This was one of the hardest-hitting disadvantages of the whole game. When I first played the game, I was disappointed to find many of my favorite Cookies not available in the game. Although I did love Vampire Cookie before and I love Dark Choco Cookie now, it did not meet up to my expectations. However, there may be hope that new Cookies will be arriving soon, as I have heard that Pancake Cookie is due this winter update. Stay tuned for future updates!
RNG-Based That's what the chests and the roulette are for! Let's hope RNG is the luck giver!
Lose Trophies? Too Bad, Go Down a Land To many players, this is a huge disadvantage as they are prevented from reaching the last land they want. However, advanced players are using these as an advantage to earn more gold chests, and thus getting more Epics. Now isn't that clever? Or is it harming the newbies?

Conclusion
Cookie Run: Ovenbreak has its strengths and weaknesses, but overall, it is a really fun game to play when you need a quick break. It is also a great game when you need some time to get into real life (thanks to the controversial chest timers). However, because it is too reliant on luck, it can hinder game play at some points.
Finally, what is this game mainly for? To help Devsisters get back into a financial success that's what it's for!

In Loving Memory of the CR Social Media
By T And J Kids.
On September 23, the Tumblr blog deactivated. The Facebook page bid its last farewells. The Twitter account did not update anymore. And slowly these accounts rot away, their posts disappear, and replaced with Cookie Run: Ovenbreak all over them.
This process took place in early October as the Cookie Run IP slowly gave way to the Cookie Run: Ovenbreak IP to help promote the new game. All sight of these old posts got deleted, and are no longer mainly seen in the Internet. These posts... are completely gone.
But wait, there's some hope! The Twitter account of Devsisters still has the pictures available. Even though the Tumblr account is deactivated, the posts still survive within other people's blogs, including mine. If you want to get some nostalgia back, you can always come back to another Cookie Run fan's blog, or my blog.

Memories of the Images from the Social Media Sites
Normal Stuff
Special Events
Wallpapers
Main article: "Cookie Run Wallpaper!" by Clubdcfdtl
Games
This is all the pictures we can salvage. If you have any additional pictures and wallpapers that you have saved, please let us know! We will be making a huge collection of these pictures to commemorate the Cookie Run social media sites we once had. Special thanks to Tumblr account runningwafers for having posted some of the earlier pictures from the Cookie Run Facebook page.



Fan Art of the Month
Spotlight on: Halloween (2013-2015)

Twitter
Unlisted



Merchandise Updates
All we can say is that the Remicone ice cream is out! And guess what? Devil Cookie is the cookie behind the question mark! The ice cream was available from October 17 until November 15.



Questions to Discuss
Note the fan art and merchandise questions will always be the same. If you answered, you don't need to answer unless you have different ideas.
HALLOWEEN

A Look into Cookie Run: Ovenbreak

Cookie Run Social Media: You Will Always Be Remembered

Fan Art

Do you have any underrated fan art that we would like to feature in next month's issue? Please comment below!
Do you love to make artwork of Cookie Run? If so, please comment below with your artwork, which will be featured in next month's issue!

Merchandise

Do you wish to see more merchandise in the future? If so, specify the type of merchandise you would like to see as well as the Cookie(s) that will go with it.